1. DJI Phantom: the origin of an entire industry
With an estimated 70% share of the world market for drones, the Chinese DJI company dominates this business sector. And it does creating and leading, without copying others or stop innovating in their products.
The model with which -literally- took off its success story was the DJI Phantom I, a model that unleashed, when it was introduced in 2012, a real rage for the drones between companies and users, which until that moment neither would have considered even its use. There was a before and after the sale of the first Phantom to the public, generating an earthquake that has not stopped until today.
The DJI Phantom range, currently version 4, is the reference to beat in advanced or semi professional amateur drones, for quality of construction, excellence of use, and a multitude of configurable options and accessories of all types designed specifically for him.
The range of this model currently on sale includes several versions of the Phantom 3 model and others of the top of the range Phantom 4, covering options ranging from the affordable by the enthusiast to the professional with a high economic investment. All types of gimballs, professional stands, stabilizers, improvements in propellers and batteries, or control knobs are available on the market outside of the official DJI catalog, so it further reinforces the decision to purchase a dron that already by itself is a sure thing.
2. Syma X5: unbeatable quality / price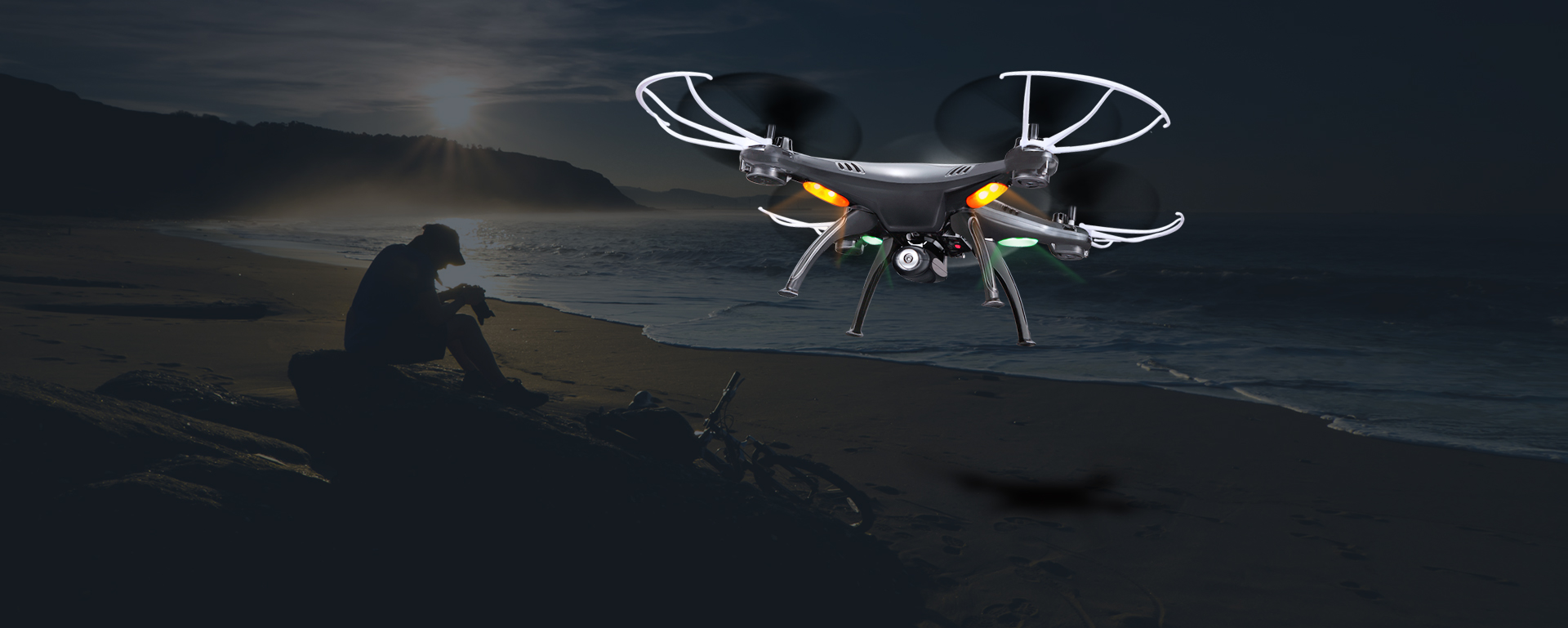 One of the most sold drones by Amazon in the world is the Syma X5, in its variants, C, SC, SW. The Guangdong company has updated this model several times adding features and improvements, which keep it as one of the options for its value, almost unbeatable.
In addition to an excellent data sheet, one of its most important virtues is that its flight mode, performance and above all its external appearance make it a "Phantom clone", so if you decide to buy this model, in the eyes of an observer it seems that you are piloting a real DJI, but paying about a tenth, or even much less than that.
Its flight characteristics are quite similar, and although its software and its special flight modes are at a lower level of sophistication, it is a highly recommended model to start at a low cost as a step before buying a much more expensive Phantom model . And probably for a large part of users is more than enough.
In addition, the model Syma X5SW has a navigation mode with real-time transmission. That way the user can control the flight by visualizing on his smartphone what he sees the 's, making the control much easier and, why not, also much more addictive.
3. Parrot Disco: VR immersion
One of the major divisions in the world is between those drones that base their prop propellers (usually 4), and those that do so by fixed wings.
In the latter category there is a model that has quickly become a clear reference among fans and is considered almost a "premium" dron for its excellent features: it is the Parrot Disco.
Made of EPP foam and with a rigid structure with carbon fiber, it is designed to achieve a particularly light and rigid body. The Disc is controlled by a virtual reality VR viewfinder, the cockpit glasses, so that the piloting is totally "immersive" and satisfactory.
By using this accessory the pilot can control what is seen from the of the Parrot Disk, and also all its telemetry. Parameters such as flight height, distance traveled, speed, recording modes, etc …
This is coupled with a stabilized in 3 axes and no less than 14 Mpx, an internal memory of 32 Gb for recordings, an extraordinary flight speed of more than 80 km / h, and a battery life of up to 45 minutes, make this model an object of desire for the fans.
4 DJI Spark: created to enjoy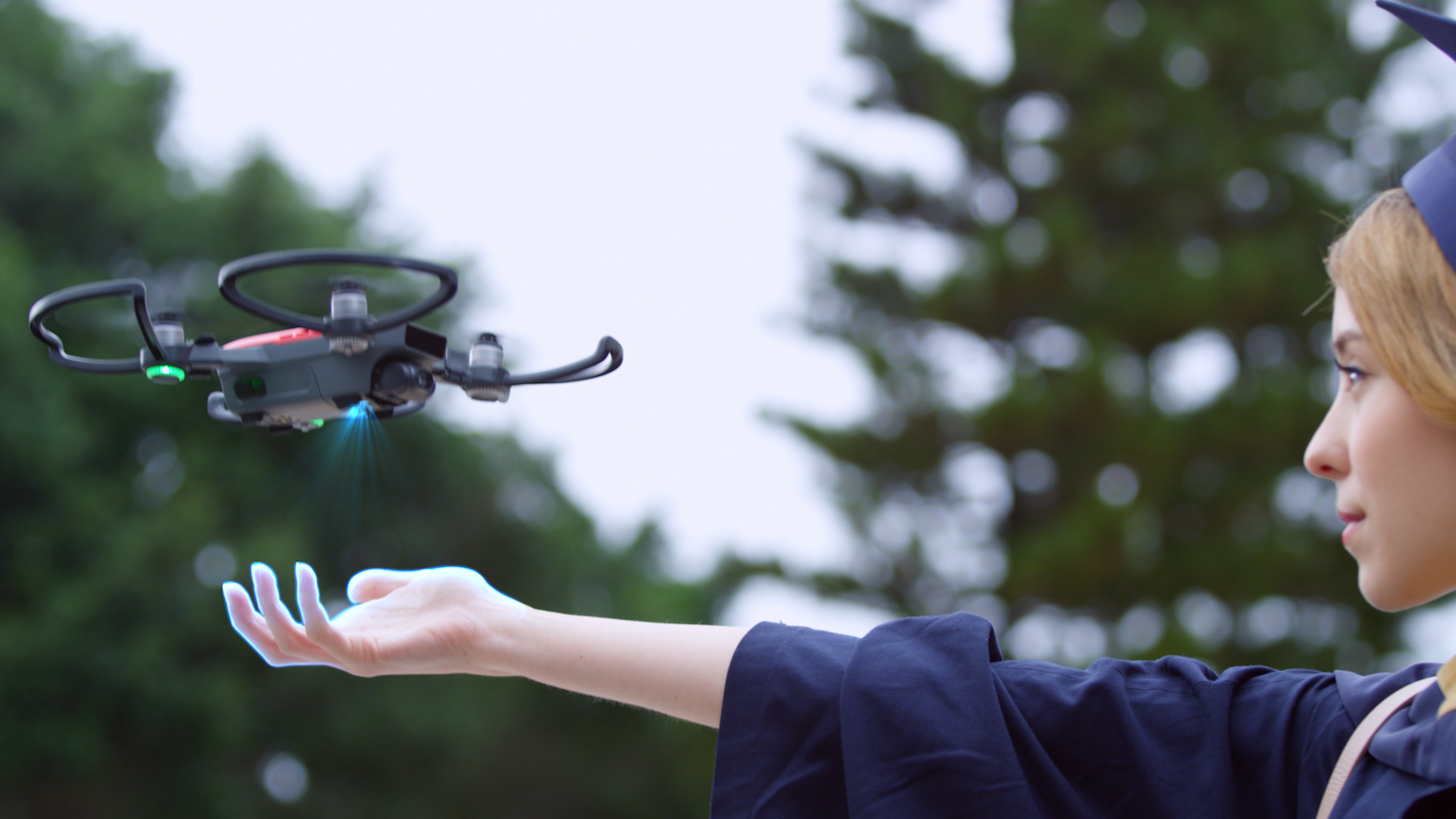 There is an infinity, literally thousands of models, of cheap gadgets with four propellers and a radio control, as cheap some as the cost of a round of beers with friends. There are so many that one would expect there to be options tailored to every need. But these drones for the consumer market have not achieved a remarkable success, and soon they fall into oblivion of the user unsatisfied, because they do not reach a level of facility and sufficient satisfaction.
That's where DJI with its Spark model has managed to create a product that delivers what the new consumer needs. Easy, attractive, satisfying: these three adjectives define the DJI Spark, which simplifies its use using new technologies that literally allow anyone to successfully fly a and start in this world.
Smaller than the palm of the hand, capable of flying at 50 km / h, and an excellent are great virtues, but the software received from the experience of models much more expensive and complex is its great asset. Detection of obstacles, stabilization of three axes, its intelligent autonomous flight modes, and control of flight by hand gestures are the reasons for its success.
Of course, in addition to the gestual, it also supports WiFi control from a smartphone, or a dedicated radio control very similar to the DJI Mavic.
5 DJI Inspire: the professional air video
Finally, the first of the list of what can be considered drones oriented only to professional sector: the DJI Inspire, which is already for its second version, DJI Inspire 2
It is a designed to be used by two people, one occupied in the maneuvers of flight and control, and another in the work of video recording, so that you can get this equipment as much as possible. In fact a third control command can be added, for an operator only occupied by the focus.
In addition, it is equipped with functions aimed at professional use: the propeller arms move up in flight, so that they do not interfere with the recording. Its flight has Optical Flow ultrasonic stabilizer, even without GPS signal, perfect for interiors, and has self-rescue and auto-surfacing. Dual battery, 80 km / h, infrared sensors, a professional exchange system and a premium quality rounded off is this magnificent machine.
DJI - Introducing the Phantom 4
Get the DJI Phantom 4 here http://amzn.to/2xKe9Xe